Department Of Civil Engineering
Department Highlights
Ascribed and accredited successively in 4 cycles by National Board of Accreditation(NBA).
Department has strong focus in the areas of Transportation Engineering, Geotechnical Engineering, Structural Engineering, Hydraulics, Water Resources Engineering and Environmental Engineering.
Accustomed for producing University rankers since inception.
Industry centric Curriculum.
Building information Modelling (BIM) computing facility sponsored by Bentley Systems , USA .
Collaboration with Builders Association of India (BAI) for Internships, placements and curriculum development.
Inception of interdisciplinary courses through Industry Assistance supported by SpitZen Energy systems, Germany, Unity Consultants,Pune.
Unique international Student chapter of ASCE along with six vibrant national Student chapters.
Tracked curriculum with special track in Industry Internships, Research, Higher Studies and Entrepreneurship in Final year.
Tracked Post graduation course in Structural Engineering with Industry and Entrepreneurship.
Student Internships in reputed industries and International Universities like KMITL, Thailand .University of Malaya.
Alumni serving Government organizations, Civil Services and reputed Industries across the globe.
Recipient of funds under MHRD for Unnat Bharat Abhiyaan ,AICTE for MODROBS and BCUD for research and development.
Addressing Socio technical issues through Environmental Club ,an unique student's initiative named "Shashwat" working with prominent NGOs.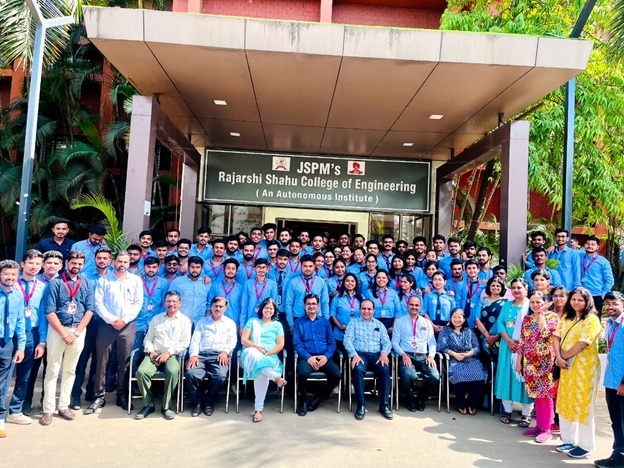 Batch Of 2022-2023
About Department
The department was established in the year of 2003-04 with an initial intake of 60 students. From 2012-13 intake has been increased to 120. The department also offers Post Graduate Course in M.E. Civil (Structural Engineering).The department has also recognized as Ph.D Research Center in year the 2012-13.The Civil Engineering Department is accomplished with full of energetic, well-qualified and experienced faculty who is also involved in research, professional activities inside & outside the campus along with the young, dynamic and dedicated faculty members.